The study of language and literature is vital to the goals of responsible global citizenship. Our department gives students the tools for critical thinking and effective communication by widening their linguistic and cultural horizons. Knowledge of the intellectual, literary, and cultural traditions of German-speaking countries is particularly well-suited to make students aware of the social, political, and ethical dimensions of language.
VISIT DEPARTMENT WEBSITE
HIGHLIGHTS
UW German Studies is one of the highest ranked programs offering advanced degrees in German in the United States.
The Department remains at the forefront of innovative language pedagogy and technology mediated instruction.
We teach foundational courses in the Humanities for a diverse student body.
Recent hires have further strengthened the Department's key areas in Literature and Philosophy, Medieval Literature and Culture, Performance and Visual Culture, and the Environmental Humanities.
EDUCATION
The Department of German Studies offers an undergraduate degree program leading to a BA in German and an MA and PhD program in German.
The major in German provides transferrable skills for any career that involves formulating questions and solving problems, especially for students in a wide range of fields such as business, politics, and STEM. Students gain advanced proficiency in spoken and written German, enhanced cultural expertise, and the ability to work across disciplines. They develop analytical skills and historical awareness through studies of literary, intellectual, and visual culture from the Middle Ages to the present.
Our graduates have gone off to successful careers in technical fields, the law, international business, higher education, publishing, and more.
The graduate program in German offers a broad, flexible, and integrated curriculum. Students gain in-depth knowledge of the language, literature, and thought of German-speaking Europe and develop important critical skills for academic and non-academic careers through research and scholarly writing.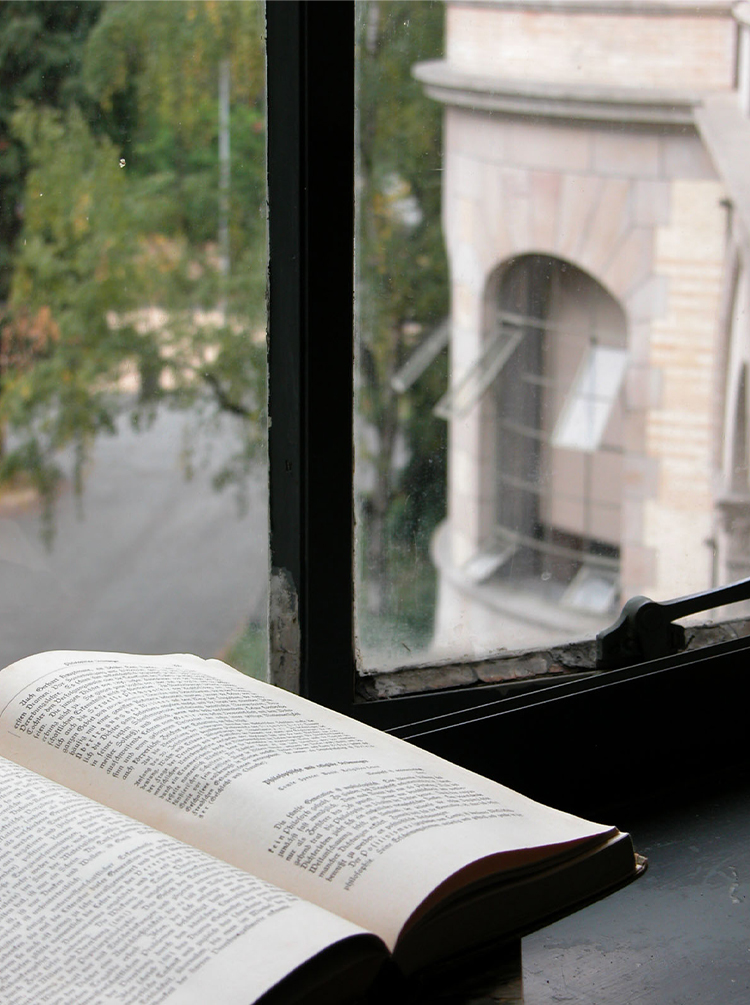 Students
2021
25 Undergraduate majors
7 Undergraduate minors
3 Master of Arts students
6 PhD students
2 Visiting graduate students
Degrees Awarded
annual average, 2019 - 2021
9 Bachelor of Arts degrees
2 Master of Arts degrees
1 PhD degree
Major Student Awards
Since 2017
9 Max Kade Graduate Fellowships
1 Deutscher Akademischer Austauschdienst Fellowship
7 UW Joff Hanauer Fellowships for Excellence in Western Civilization
1 UW Graduate School Dissertation Fellowship
3 Fulbright Undergraduate Awards 
2 Digital Humanities Summer Institute Stipends
1 Chester William Fritz Scholarship
FACULTY
2019 -2021
4 Professors
2 Associate Professors
1 Associate Teaching Professor
1 Assistant Professor
2 Max Kade Distinguished Visiting Professors
6 Emeriti Professors
3 Affiliate Assistant Professors
6 Adjunct Professors
1 DAAD Visiting Professor
Faculty Awards & Honors
1 Guggenheim Fellowship
2 Senior Alexander von Humboldt Research Foundation Prizes
1 Alexander von Humboldt Alumni Prize
1 National Endowment for the Humanities Fellowship
1 American Council of Learned Societies Senior Research Award
1 Senior Fulbright Award
2 University of Auckland Hood Fellowships
1 Rachel Carson Center Fellowship from LMU Munich
1 Urban Fellowship at the San Francisco Exploratorium
2 UW Distinguished Joff Hanauer Professorshipz
1 UW Lockwood Professorship in the Humanities
4 UW Simpson Center Society of Scholars Awards
4 UW Royalty Research Fund Awards
1 Fellow at the Center for Interweaving Performance Cultures at FU Berlin
SCHOLARSHIP
We are a diverse group of scholars working in the field of German and Austrian literature and culture, applied linguistics, intellectual history, comparative literature, queer studies, medieval literature and culture, and environmental studies. We focus on verbal and visual media, texts and contexts, and examine their historical and contemporary significance.
Recent faculty publications include: Richard Block, Echoes of a Queer Messianic: From Frankenstein to Brokeback Mountain; Klaus Brandl, Communicative Language Teaching in Action; Jane K. Brown, Goethe's Allegories of Identity; Richard T. Gray, Ghostwriting: W. G. Sebald's Poetics of History; Jason Groves, The Geological Unconscious: German Literature and the Mineral Imaginary; Annegret Oehme, "He Should Have Listened to His Wife." The Construction of Women's Roles in German and Yiddish Pre-modern Wigalois Adaptations; Brigitte Prutti, Unglück und Zerstreuung: Autobiographisches Schreiben bei Franz Grillparzer; Ellwood Wiggins, Odysseys of Recognition: Performing Intersubjectivity in Homer, Aristotle, Shakespeare, Goethe, and Kleist; and Sabine Wilke, German Culture and the Modern German Environmental Imagination; 
Areas of Research and Teaching
Modern German Literature and Culture
Modern Austrian Literature and Culture
Medieval Literature and Culture
Comparative Literature
Literature and Philosophy
Goethe and Goethezeit
Romanticism
Theory and History of Drama
Critical Theory
Film, Performance, and Visual Culture
Applied Linguistics
German Language and Methodology
Environmental Humanities
PROGRAM INITIATIVES
Since 1999, the Department has collaborated with high school teachers in Washington to offer college-level courses at select high schools. The Department also serves as a testing center for language exams offered through the Goethe institute.
We offer an MA in Pedagogy and Culture that emphasizes advanced teacher training in conjunction with other programs.
The Department has a weekly film series and a social hour for all students wishing to practice their language skills outside the classroom. We organize regular career training events for our graduates as well as undergraduates.
CONTACT
Department of German Studies
Box 353130
University of Washington
Seattle, WA 98195
(206) 543-4580
last update: October 2021