When Alina Aleaga arrived at the UW as a freshman, she followed the advice of older sister Rachel, an Arts & Sciences alum. She took many of the same courses, participated in the same study abroad programs, and even chose the same major. But Aleaga, who graduated this month with a BA in anthropology and American ethnic studies, is no follower. She made her own mark at the University, including designing undergraduate courses and K-12 curricula in collaboration with the Burke Museum.
"Alina was such a strong student that I recruited her for every class I taught," says Holly Barker, lecturer in the Department of Anthropology and a curator at the Burke. "She served as a role model for other students."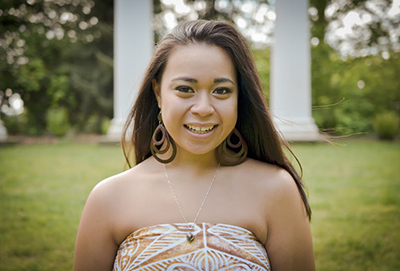 Before her freshman year, Aleaga made twice-monthly visits to campus through PIONEER (Pacific Islander Opportunity Network for Educational Equality and Representation), a student-run UW program that encourages Pacific Islander high school students to learn more about their Pacific Islander identity and go on to college. As a UW student, Aleaga became a volunteer for PIONEER—and half a dozen other Pacific Islander student groups on campus. She has been an officer in the UW's Polynesian Student Alliance (PSA) for the past three years.
"Less than one percent of UW students are Pacific Islander," says Aleaga, "so our goal is to make our voices heard both at the UW and working with youth outside the UW. We want other Pacific Islanders to know there is a community here for them."
Aleaga's Samoan heritage is reflected in her academic work as well. She took every course taught by Barker, who specializes in Pacific Islander culture.  The draw was not just the topic but Barker herself. "Her teaching style intrigued me and kept me wanting to learn more," says Aleaga. "She's all about letting students take the lead. There's the sense that we're learning from each other."
One memorable class project involved a behind-the-scenes visit to the Burke. At the time, Barker's class was planning to recreate a formal kava ceremony, a Pacific Islander tradition at which visiting dignitaries share a drink made from kava root. When the students noticed kava bowls in the Burke's collection, they asked if it would be possible to use one for their ceremony. Barker arranged for use of a bowl—and for the ceremony to be held at the Burke.
"The bowl was special," recalls Aleaga. "It hadn't been used in a long time, so it was a big deal. We decided to invite the entire Pacific Islander community to share in the experience. So the students were both learning and teaching while practicing this tradition. It was amazing."
Impressed by Aleaga's enthusiasm and intellect, Barker approached her about developing a curriculum—using Burke Museum artifacts—for Pacific Islander middle school students attending the Taro Roots football camp. "She had the idea but wanted my perspective and my knowledge of the community," says Aleaga. "She recognized my passion for Pacific Islander culture."
Less than one percent of UW students are Pacific Islander, so our goal is to make our voices heard both at the UW and working with youth outside the UW.
That independent study project led to others, including a curriculum for students participating in PIONEER. Aleaga also researched artifacts in the Burke's collection, digging for information where the museum's database lacked detail. And she helped Barker develop a series of UW anthropology courses that use the Burke collection, designed to appeal to Pacific Islander students.
"Alina's insights helped the Burke Museum create and launch a series of group research classes that draw on indigenous research methods and ethics," says Barker. "The courses enable Pacific Islanders to see their culture and traditions reflected in the research process."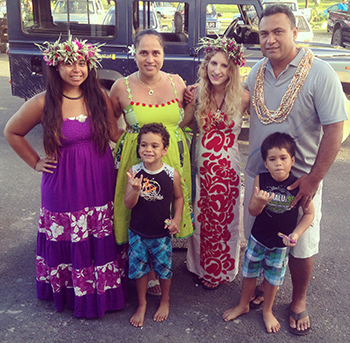 In addition to these projects, Aleaga found time to study abroad. First she studied in the Philippines through a Department of American Ethnic Studies program, then in Tahiti through a Department of Anthropology program. The latter included a homestay in Huahine with a host family—a highlight of Aleaga's UW education.
"My homestay family took me in like I was their daughter," she says. "They love very hard. It was so difficult leaving. I tell other students, 'You need to go on this, because it will change your perspective about life.'"
Looking ahead, Aleaga describes her dream job as recruiting or advising students at the pre-college or college level. And she would like to encourage more Pacific Islanders to attend the UW.
"We're making our roots grow here at the UW," she says of Pacific Islander students. "We may be less than one percent of the student population, but through our many programs we're saying, 'Look at us. We're here.'"