Darby Sherwood (BA, Drama, Political Science minor, 2022) had just finished working on a UW School of Drama production when COVID arrived. She was partway through her sophomore year. On-campus productions would not resume until her senior year.
Yet Sherwood graduated with the robust resume of a seasoned theater professional: Directing experience on ten productions. Writing credits on more than a dozen plays, produced or in the works. A paid teaching position at Seattle Children's Theater. Even an opera libretto, to be performed by Seattle Opera.
"Coming to the UW, I did not think I would have all these opportunities," says Sherwood. "But if you're motivated to do something, faculty are going to support you in making that happen."
Stepping Up from the Start
Sherwood began her theater journey in fourth grade, when she was the genie in a production of Aladdin at her dance school in Illinois. "I was a shy kid, so it was fun to be able to let loose in a safe way," she recalls. In high school, she performed in musicals, along with directing and playwrighting.
At the UW, Sherwood gravitated to the School of Drama (SoD) right away. "I liked that the drama program really allowed you to take opportunities if you knew how to ask for them," she says. "It's been fun to be able to craft my own path and have people in the department support me."
Sherwood thought she'd dip her toe into theater her first year, but she ended up diving in, serving as assistant director for a production of Romeo and Jules in spring 2019. Soon after, she volunteered as assistant director for Chekhov's Three Sisters. "A lot of assistant directing is about being in the room and seeing what needs to happen," she says. For Three Sisters, Sherwood took on additional responsibilities as adapter, dialect coach, and dramaturg. (Dramaturgs gather information and source materials to inform various aspects of a production.) 
Writing an adaptation of a Chekhov classic was a tall order. Sherwood had studied Russian as a first-year student and found that helpful. "I did some reading of the original Russian text to recognize literary devices being used," she recalls. "I learned so much about rhythm and what words can do. I found my internal rhythm as a writer with that play. I can honestly separate a lot of my writing to pre-Three Sisters and post-Three Sisters."
A COVID Opportunity
Next Sherwood worked on a UW production of Cabaret. Scheduled to open in April 2020, the show was cancelled due to COVID. For the next 18 months, there were no staged productions on campus. That long stretch of online learning was hard for all faculty and students but particularly challenging for students training to produce theater. Sherwood still managed to find opportunities.
Coming to the UW, I did not think I would have all these opportunities. But if you're motivated to do something, faculty are going to support you in making that happen.
Thanks to support from the Floyd and Dolores Endowed Fund, Sherwood took on an ambitious writing project with playwright Karen Hartman — previously a SoD senior artist-in-residence — as her mentor. The result was Mrs. Lenin, an original play about Vladimir Lenin and his wife traveling from Switzerland back to Russia by train at the start of the Russian revolution. Carol Roscoe, SoD lecturer, served as director for the project, and professional actors performed a staged reading online.
"Seattle actors didn't have a whole lot going on at the time, so I was able to work with all these people I'd seen at Seattle Rep and Book-It and other theaters," says Sherwood. "We had ten hours of rehearsal and then the play was performed. It was so cool to see what was working in the play and what wasn't. That was definitely a highlight of my junior year."
As COVID waned, Sherwood was able to direct in-person productions again through a paid teaching internship at Seattle Children's Theater last summer. (She'd previously interned with Taproot Theater.) Each week, budding actors — ages six to eight — performed short plays written by Sherwood.
"I wrote 13 short plays over the summer for the kids," Sherwood says. "It was wonderful to see the ways that playwriting can be so powerful in a youth environment." Sherwood has since been hired by Seattle Children's Theater as a teaching artist.
A Voice for Youth Theater
Her senior year, Sherwood wrote another play as a thesis project and informally introduced playwriting in an unexpected space: a political science course. For a political science book review assignment, she asked the professor if she could write theatrical scenes based on the book instead.
"He was super into it and made all the students in the class be the actors," Sherwood recalls. "It was a really fun way to combine my interests in theater and political science. Both study the ways that human relationships are so impactful in our lives."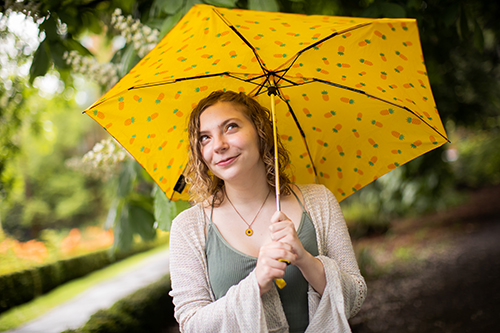 Sherwood stepped outside the box again through Seattle Opera's Jane Lang Davis Creation Lab, a year-long program that pairs composers and librettists to write 20-minute operas, which are then performed by professional opera singers and Seattle Symphony musicians. Sherwood had never written a libretto, but she welcomed the challenge. Her work was performed at the Seattle Opera Center in June 2022.
Looking ahead, Sherwood hopes to write more librettos and many more plays. She's already adapted Cinderella for the Academy of Children's Theatre in Richland, Washington, and is slated to work with the theater on two more productions in the next two years. She'll also continue her job with Seattle Children's Theater. The focus on youth theater feels right to her. After all, that's where she got her start.
"There aren't a ton of people focusing on doing artistic, beautiful playwriting for children, so I've been really working on developing my voice in youth theater," she says. "It's fun to think about how far I can push the boundaries. Playwrights have thought about that in theater for adults, but not as much in theater for youth. I feel like there's so much more room for that."